Lars (Ryan Gosling), un joven enormemente tímido y dulce que vive en una pequeña localidad junto a su hermano (Paul Schneider) y su cuñada (Emily Mortimer), lleva por fin a casa a Bianca, la chica de sus sueños. El problema es que Bianca es una muñeca que encargó por Internet, aunque Lars la trata como si fuera una persona real. Alentados por una doctora (Patricia Clarkson), y en un esfuerzo por comprenderle, su familia decide seguir con la fantas
ía de Lars, de la que pronto acabará participando todo el pueblo.
"Lars y una Chica de Verdad" es la historia de la relación de dos personajes, y de su deseo de encajar en el mundo que les rodea. Es una
comedia romántica a la antigua usanza (por muy agotada que parezca la fórmula), sin chistes ni bromas de trazo grueso, pese a lo que podría imaginarse por su peculiar argumento. Aunque en realidad, también es el cuento de hadas de una persona reprimida y excéntrica, maltratado por la fatalidad, que encuentra una válvula de escape en el lugar más insospechado. Y finalmente, es un himno a la amistad, que hace que se puedan aceptar todo tipo de situaciones con el fin de ayudar a un ser querido.
Con todos estos elementos, no sorprende que la película haya sido nominada a mejor guión, que firma Nancy Oliver (escritora de varios episodios de "A Dos Metros bajo Tierra").
La verdad, a mí tantos elogios me parecen algo excesivos, ya que "Lars y una Chica de Verdad" no es una película tan original como parece. De hecho,
y además del obvio parecido que guarda con "Tamaño Natural" de Berlanga,
basta volver la vista un par de años atrás para ver un ejemplo de algo relativamente similar, aunque de nivel muy inferior, como es "s1m0ne". En ambos casos, el punto de partida es común: al no encontrar a la chica perfecta, los protagonistas optan por crear una a su medida. Después, mientras que la que protagonizara Al Pacino se centra en los problemas que algo así puede causar, la que nos ocupa toma una senda completamente distinta, y se transforma en una fusión entre "Notting Hill" y "Una Mente Maravillosa", y no es que esta clase de películas destaque precisamente por su innovación.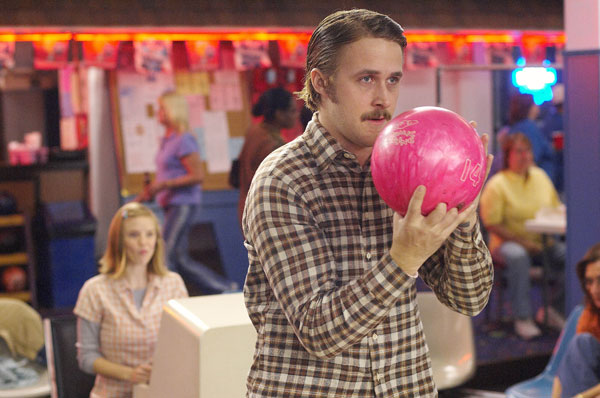 Por ello, una vez presentada la curiosa situación con la que deben lidiar los personajes, el film del debutante Craig Gillespie pierde fuelle, convirtiéndose en una fábula demasiado irregular, con momentos que se repiten una y otra vez sin aportar demasiado al conjunto de la historia.
Afortunadamente, no llega nunca a resultar demasiado tediosa, porque lo que sí tiene tiene "Lars y una Chica de Verdad", y es sin duda su mayor virtud, es la sorprendente capacidad por hacer creer la historia no solo a sus personajes, si no también al espectador, que pese a que al principio pueda sentirse objeto de una gran broma (y en alguna escena a lo largo de todo el film también), poco a poco va inmiscuyéndose en ella, como si de un habitante más del pueblo se tratara. Y tal vez eso se haya logrado con el empeño por parte de todos, guionista, músico y director, por hacer de esta una película lo más realista posible a la vez que positiva y emotiva. Y por supuesto los actores. Tanto Ryan Gosling como el resto de secundarios componen actuaciones muy creíbles de unos personajes tiernos y positivos, y resulta imposible no emocionarse con alguno de los gestos que llevan a cabo por Lars los que le rodean.
Tanto es así que incluso el final, que podría resultar insultante, sorprende por la naturalidad con que está llevado, como si se tratara de un acontecimiento cotidiano más.
A fin de cuentas, "Lars and the Real Girl" es una comedia romántica que consigue lo más difícil, hacernos creer la propuesta y sentirnos parte de ella, pero falla en lo más fácil, que es dotarla de un ritmo que logre mantener el interés sin provocar demasiados bostezos. En otras circunstancias hablaríamos posiblemente de la verdadera "Pequeña Miss Sunshine" del año en lugar de "Juno", pero lamentablemente, esta se queda a medio camino. Eso sí, merece ser vista.
6,5/10