La nueva aventura cinematográfica de Paul Thomas Anderson es una mastodóntica y ambiciosa producción de más de dos horas y media de duración cuyo peso recae íntegramente sobre los hombros de Daniel Day-Lewis, protagonista absoluto de la misma.
"Pozos de ambición" es una história épica sobre la familia, la fe, el poder y el petróleo que transcurre en la frontera de California a finales del siglo XIX en pleno boom del petróleo. La película es una crónica de la vida y la época de Daniel Plainview, que pasa de ser un minero miserable que tiene que sacar adelante a un hijo sólo, a un magnate del petróleo.
Un día a Plainview le llega un misterioso soplo sobre una ciudad al oeste donde un mar de petróleo rezuma hacia el exterior, y allí se dirige con su hijo H.W. para probar suerte en la polvorienta Little Boston. En esta ciudad mísera, donde la única diversión posible gira en torno a la iglesia que dirige el carismático predicador Eli Sunday, Plainview y H.W. dan su golpe de suerte. Pero ahora que la fortuna empieza a sonreirles, nada volverá a ser igual: surgen los conflictos y todos los valores humanos -amor, esperanza, comunidad, fe, ambición e incluso los lazos entre padre e hijo- son expuestos a la corrupción, la decepción y al flujo del petróleo.
Hablar de "There Will Be Blood" (fantástico título original cuya traducción sigo sin entender) es hacerlo de una de las mejores películas que el cine hollywoodiense ha dado en los último años. Pocos peros pueden achacársele a tamaña epopeya, perfecta en casi todos sus sentidos.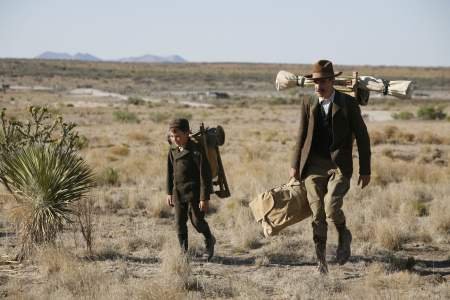 En primer lugar, debe destacarse el fantástico (e infinito) guión, escrito por el mismo Anderson que se basa en la novela "Oil!" de Upton Sinclair. "Pozos de Ambición" es un drama descorazonador en que se asiste a la paulatina destrucción de una persona que sin percatarse se va abandonando a manos de la codicia, conforme el petróleo fluye por sus venas. Apenas es consciente de lo que suponen algunas de sus decisiones, y mientras aumenta su estatus social y se convierte poco a poco en uno de los personajes más influyentes de Norteamérica, su alma se va empequeñeciendo, haciéndose más mezquino, insoportable e intransigente. Y del mismo modo, suave y casi inconscientemente, es como el espectador percibe esa progresión, ya que el guión evita en todo momento bruscos acontecimientos y opta por fluir de manera coherente y sin grandes aspavientos, dibujando a su personaje capa a capa, pincelada tras pincelada hasta llegar al inevitable terrible final (momento en el que el guión cambia radicalmente de registro y se transforma en un arriesgado epílogo que gustará tanto como se odiará).
Por supuesto, la magia es posible gracias a la labor de Daniel Day-lewis, que es sin duda uno de los mejores actores del panorama actual, y para esta ocasión realiza una labor sentida y maravillosa, casi incluso demasiado perfecta, con la única pega de recordar en más de una ocasión a Bill 'El Carnicero', al que dio vida con genialidad en la incomprendida "Gangs of New York".
Como decía anteriormente, "Pozos de Ambición" es perfecta en casi todos sus aspectos, por lo que a estos elementos habría que añadir los que componen su exquisito envoltorio, tales como la fotografía, música, o vestuario, conformando un diseño de producción elegante, precioso y potente.
Y por supuesto, mención especial merece la dirección de Anderson, que compone su mejor película hasta la fecha a base de planos precisos y preciosos, mezclando unos grandilocuentes con otros minimalistas con una facilitad casi insultante, y lo que es más importante, rehusando de efectos modernos y montajes desenfrenados. Con ello, consigue que la extravagancia de la propuesta se mantenga siempre perfectamente encauzada dentro de los límites de un cine de sabor añejo absolutamente cautivador.
Tal vez solo pueda recriminársele una pega, y esta es su duración. Es cierto que ni un solo fotograma sobra, y cada minuto es necesario para la historia. Incluso se trata de una película que en ningún momento se hace pesada o tediosa, ni mucho menos, ya que el interés del espectador no hace más que aumentar y aumentar. Pero aún así, más de dos horas y cuarenta y cinco minutos siguen antojándose tan excesivos como, en el fondo, es "Pozos de Ambición".
9/10
(empate técnico entre esta y la obra maestra de los Coen, aunque para ser sinceros, un servidor sigue decantándose por la de los geniales hermanos...).
Y en el BluRay...
Edición en "combo" la que nos brinda Emon, un doble empaquetado que nos da la posibilidad de disfrutar la película en DVD o BluRay con idénticos contenidos y semejantes características. Básicamente, la opción de audio en su versión original en inglés, con posibilidad de subtítulos en castellano, o la directamente doblada al español.
En cuanto al material adicional, la propuesta se reduce a una única pieza de 15 minutos, tan aparentemente austera como, en el fondo, valiosa. Más como experiencia sensorial que como fragmento puramente explicativo. Se trata de un montaje que, bajo el título Pics, research, etc, alterna imágenes de la película con fotografías de los artículos de diarios, lugares y personas que servirían como inspiración y fuente de documentación. Un precioso montaje que traza una línea directa, un puente que conecta el tiempo narrativo de la película con los sucesos históricos. Y que refuerza, aún más si cabe, la tremenda potencia atractora que ejerce Paul Thomas Anderson entre distintas sensibilidades cinematográficas, tan capaz él de conjugar modernidad y clasicismo en un mismo discurso. Un video que, en suma, nos recuerda una vez más que la fuerza imparable que destila el lenguaje del realizador proviene de su propia pureza, aquí más que nunca, emparentada con la iconografía del cine mudo, la del más temprano John Ford y la de un cierto cine de King Vidor.