La película empieza con escenas de un Martin Scorsese nervioso, yendo de un lado para otro y hablando con todo el mundo, productores, iluminadores o cámaras, para intentar atar todos los cabos sueltos del rodaje. Mientras, los cuatro miembros de los Rolling Stones deambulan por platós y camerinos sin decir demasiado sobre lo que se le viene encima al oscarizado director. Tal es el (aparente) caos, que a falta de muy poco tiempo para el comienzo del concierto que se pretende grabar, Marty ni siquiera tiene la lista final de canciones que interpretarán Jagger y compañía.
A todas estas llegan los vip de la noche, Bill Clinton y familia, que suponen más impedimentos para el cariacontecido director.
Todo esto dura a lo sumo diez minutos. Después, las luces se apagan. Comienza el espectáculo.
A partir de aquí me veo obligado a advertir a los lectores: esta no va a ser una crítica objetiva. Ni mucho, mucho menos.
De ser así, seguramente tendría que decir que "Shine a Light" es, en el fondo, una tomadura de pelo. Porque no es ni documental, ni entrevista, ni charla, ni película a fin de cuentas. Se trata (casi) única y exclusivamente de la grabación de un concierto, como los miles de ejemplos disponibles en las sección "DVD Musical" de todas las tiendas. Lo único que lo distingue del resto es que tal vez este esté un poco mejor montada, con más voluntad, pero eso, en realidad, tampoco es nada del otro mundo. Además, las "imágenes de archivo" que se intercalan entre canción y canción no duran más de tres minutos, se reducen a entrevistas absolutamente normales (léase, sin ahondar en los peculiares hábitos de la banda, o sus problemas con la justicia), y se pueden contar con los dedos de la mano.
Pero se trata de los Rolling Stones, y eso, para un servidor, es hablar de la mejor banda de rock de la historia. Por lo que a partir de ahora, si no eres fan de Jagger, Richards, Wood y Watts... mejor no sigas leyendo.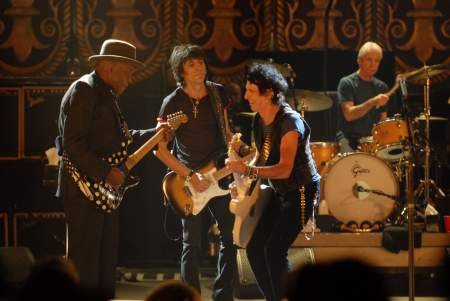 "Shine a Light" es una de las experiencias cinematográficas más intensas y completas que he vivido. Desde los primeros guitarreos, correspondientes a "Jumpin Jack Flash", el espectador es transportado a la primera fila del teatro Beacon de Nueva York, y casi puede tocar a sus ídolos, que componen una actuación inmensa, carnal, de principio a fin. La emoción que se siente al ver una comunión tan perfecta entre grupo y público es tan grande que cuando concluye el potente tema de entrada resulta imposible no levantarse a aplaudir, con una sonrisa de oreja a oreja y los ojos brillantes por la emoción.
Y la cosa no ha hecho más que empezar. Una cantidad de canciones muy variada va transcurriendo sin apenas un minuto de pausa, con algunos de los temas más históricos de la banda, pero también otros menos conocidos que harán enloquecer a los que realmente se conocen al dedillo hasta su última canción. Así, no os extrañéis al oír "Some Girls", o "You Got the Silver", del disco "Let it Bleed", interpretada por un Keith Richards pletórico. Incluso se atreven con el country.
Para tres de ellas hay preparadas además pequeñas sorpresas, traducidas en apariciones en el escenario de artistas invitados, Jack White III (guitarrista de White Stripes), Buddy Guy, y Christina Aguilera, que para mí han supuesto más un lastre que otra cosa (aunque no demasiado molesto), con la excepción del potente Guy, un todopoderoso maestro del blues.
Como decía al principio, todo ello mezclado con apenas tres o cuatro entrevistas y grabaciones antiguas, algunas de ellas la mar de divertidas, aunque no aportan absolutamente nada ni a la película ni al que quiera descubrir un poco más de la vida de los excéntricos músicos.
Y por supuesto, cuando le toca el turno a las míticas "Sympathy for the Devil", "Start Me Up", o la esperada "(I can get no) Satisfaction", no solo el teatro de Nueva York, si no la sala de proyección se viene abajo en lo que son los subidones de adrenalina más intensos que recuerdo en un cine.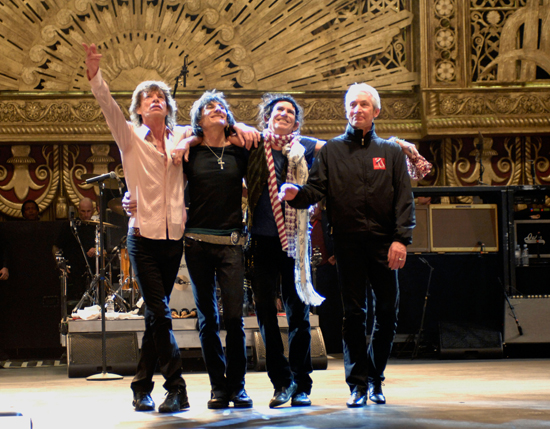 Así, a un ritmo atronador van transcurriendo las dos horas de la película, hasta llegar a la última canción, que como buen concierto que es, resulta desilusionante por el deseo por parte de público/espectador de seguir con la fiesta más y más, y escuchar alguna de las ausentes, que obviamente son muchas.
"Shine a Light" no es más pues que un concierto grabado con esmero y destinado casi exclusivamente a los amantes de la banda de rock más mítica de la historia (le pese a quien le pese). Si eres uno de ellos, no comentas el error de esperar a que salga en DVD. Merece ser vista en pantalla grande y con el sonido a tope, para poder sentir realmente que estás, literalmente, en un concierto de los Rolling Stones. Para mí ha sido una de las experiencias cinematográficas más indescriptibles.
Larga vida a los reyes del rock.
10/10
(ya he dicho que no puedo ser objetivo)