El cine de aventuras, en especial el de la búsqueda de tesoros escondidos por el mundo, está viviendo una segunda época dorada, de la mano de "La Búsqueda", "
Indiana Joves IV
", o "
Como Locos... a por el Oro
". "King of California", escrita y dirigida por el debutante Mike Cahill, parte de la misma temática, pero lo hace desde un punto de vista radicalmente diferente, a medio camino entre la comedia
indie
, la
road movie
, y el cine intimista, familiar, o como quieran llamarlo.
Charlie (Michael Douglas) es una hombre mentalmente inestable que, tras salir de una institución mental, trata de convencer a su hija (Evan Rachel Wood) de que hay oro desde los tiempos de los españoles enterrado en alguna parte en el extrarradio de la ciudad.
De vez en cuando salta a las pantallas de algunos cines una película que a la chita callando se acaba convirtiendo en toda una alegría, un divertimento tan liviano como falto de pretensiones que supone un soplo de aire fresco a una cartelera cada vez más saturada de superproducciones carísimas y efectos especiales. El ejemplo que más rápidamente me viene a la cabeza es "A Propósito de Schmidt", ligero pasatiempos protagonizado por Jack Nicholson que dirigió Alexander Payne antes de su mayor éxito hasta el momento, "Entre Copas" (otro ejemplo igual de válido).
Pues bien, "King of California" es uno de estos casos. De hecho, no sorprende en absoluto que Payne aparezca en los títulos de crédito como productor, pues esta insólita aventura guarda más de un parecido con las citadas anteriormente.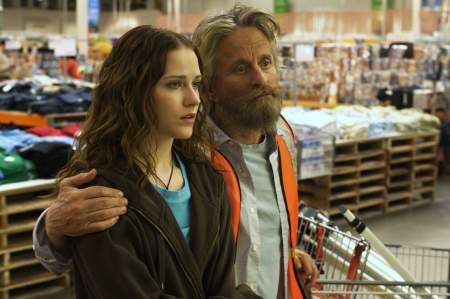 Tomando la búsqueda del tesoro que obsesiona al protagonista como excusa, Mike Cahill (siguiendo los pasos del ya mencionado Payne) habla de la evolución de una relación humana, en este caso entre un padre soñador y excéntrico y su hija, encargada de la manutención de la familia pese a su corta edad. El espectador asiste pues a una investigación que es al mismo tiempo palpable y mundana (como es la búsqueda del oro en sí), e interna y subjetiva (la búsqueda de la esperanza, podríamos decir), pues como la misma protagonista pregunta a un cierto punto, ¿quién no quiere creer en su padre? y más aún, en un tesoro escondido. Así, poco a poco la relación va creciendo, al mismo tiempo que lo hacen las esperanzas y las posibilidades de hacer realidad un sueño.
Como puede intuirse, se trata de una película de aquellas de mensaje positivo y agradable, que puede despertar fácilmente toda clase de gratos sentimientos en un público que casi sin darse cuenta acaba deseando tanto como el propio Charlie que den con su ansiado oro, y que no sea por tanto todo fruto de su imaginación (y no temáis, que lo último que quiero es desvelar el final de la película).
Tan atractivo como su argumento es el modo en que este es transmitido. Utilizando un tempo más bien sosegado (muy similar, de nuevo, a las dos películas de Payne), y evitando cualquier tipo de artificio, la trama transcurre de manera constante y fluida, con destellos aquí y allá de un humor meramente simpático, pero sin llegar nunca a la risa, algo que en ningún momento pretende buscar. Lo mismo ocurre con las situaciones más emotivas, que se plasman de manera igualmente sutil y poco ornamentada, para que todo quede dentro de los límites de la linealidad emocional que se pretende.
Pero donde realmente se encuentra la mayor virtud de esta aventura es en sus actuaciones, pues Michael Douglas y Evan Rachel Wood, Don Quijote y Sancho Panza, están tan bien, tan naturales en sus excéntricos personajes (¿quién es más loco, el loco, o el loco que sigue al loco?), que éstos resultan sumamente creíbles e invitan a que el espectador se sienta casi como un miembro más de tan peculiar equipo de cazatesoros.
Y con todo, se llega en poco más de hora y media a un final sumamente sensible, que le deja a uno con la agradable sensación de haber sido refrescado por una de las propuestas más encantadoras que actualmente pueden disfrutarse en una sala. Es como un helado en una tarde calurosa.
7,5/10