Era cuestión de tiempo que apareciese una película como "Superhero Movie", enésima parodia de grandes producciones, esta vez centrada exclusivamente en las adaptaciones de cómics a la gran pantalla.
Y pese a lo difícil que resulta a día de hoy convencer con un género más que saturado y plagado de engendros cinematográficos cada vez más lamentables, la que nos ocupa bien merece el beneficio de la duda, debido a los nombres que se esconden tras ella.
Rick Riker es el clásico perdedor de instituto que como consecuencia de la mordedura de una libélula, genéticamente modificada, desarrolla capacidades sobrehumanas como una fuerza increíble y una piel armada. Sin embargo, en su destino se cruza el malvado Lou Landers, un tipo que después de un experimento fallido adquiere el poder de robar la fuerza y la vida a las personas en una búsqueda cobarde de la inmortalidad, convirtiéndose así en el villano The Hourglass. Con una fuerza inimaginable, una velocidad increíble y unos leotardos profundamente incómodos, The Dragonfly tendrá que acabar con The Hourglass y salvar al mundo.
"Scary Movie 2" supuso un prematuro punto de inflexión en el mundo de las parodias, ya que en vez de reírse de las películas a las que citaba, las utilizaba como mera excusa para colocar uno detrás de otro un sinfín de gags que nada tenían que ver con ellas, y que además eran excesivamente escatológicos hasta el punto de resultar molestos (olvidándose de las buenas maneras que había mostrado su antecesora).
A partir de aquí, el género desembocó en dos corrientes. Mientras que muchas de las "... Movie" optaban por esta vía fácil provocando el desespero en el espectador (el caso más reciente lo tenemos en "
Casi 300
"), el mítico David Zucker tomaba las riendas de la saga pionera, dirigiendo las siguientes dos entregas y retomando su espíritu paródico original (basado por tanto en la revisión de las películas objeto de mofa), aunque eso sí mezclado con su personal estilo esperpéntico, los gags hilarantes que le hicieron famoso, y acompañado de su actor fetiche, el genial Leslie Nielsen.
Pues bien, afortunadamente, en "Superhero Movie" el mítico director de "Aterriza como puedas" hace las veces de productor, cediendo la dirección en este caso a Craig Mazin, guionista de la misma y de, mire usted, las partes 3 y 4 de "Scary Movie". ¿El resultado? Muy por encima de lo esperado.
Igual que en aquellas dos, la que nos ocupa cuenta ante todo con una trama que por más descabellada que sea, resulta coherente y organizada, con tres arcos argumentales bien definidos (nacimiento del héroe, evolución, y enfrentamiento con el villano), y clímax final incluido.
De este modo, no se limita a una sucesión de chistes sin más, y solo por eso ya es infinitamente superior a tantas otras, puesto que puede considerarse como
película
.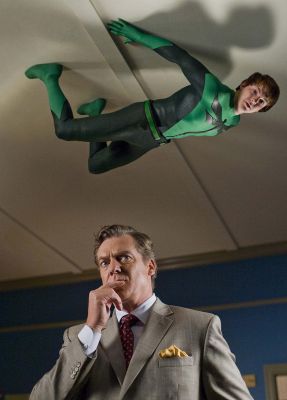 Vale, es cierto que la calidad artística del film es más bien...inexistente. Pero eso es lo de menos (a fin de cuentas, tampoco la tenía, por ejemplo, "Agárralo como puedas"). Lo único que puede pedírsele a esta clase de cine es que haga reír, y la verdad es que con ésta me he sorprendido a mí mismo carcajeándome en más de una ocasión.
Tomando el guión del primer "Spider-Man" de Sam Raimi como base, "Superhero Movie" se mueve entre gags estúpidos y gags aún más estúpidos, de aquellos de cabezazos contra paredes y demás. Afortunadamente, éstos limitan el número de los de la pedorreta y el
cacapedoculopis
, que bien podrían haber sido eliminados por completo ya que son los que condenan a la película con momentos de lo más vergonzosos y por supuesto nada graciosos.
Así pues, la película pasa más entre risas que entre sonrojos, convirtiéndose, prejuicios a parte, en una de las mejores parodias de la nueva generación (lo cual, de hecho, tampoco es tan difícil).
Y es que lo más importante es que ésta es una de esas comedias que pueden valerse por sí solas, con un humor universal más allá de sus referentes, como hacen "Top Secret" y "Hot Shots" (por no mencionar una vez más a las "Scary Movie 3 y 4"), y como desde luego no hacen "Epic Movie" o la antes citada "
Casi 300
".
Por supuesto, ayudan descaradamente al funcionamiento de la comicidad las apariciones no solo de Leslie Nielsen (haciendo de tío del protagonista...), sino del genial Jeffrey Tambor e incluso de Robert Hays (protagonista de "Aterriza como puedas") entre otros.
No estoy diciendo que "Superhero Movie" sea una buena película ni mucho menos, pero sí se trata de una comedia bastante divertida, la verdad, que recuerda por momentos a las legendarias sagas de Zucker. Todo el metraje está impregnando de un aroma descarado y de lo más imbécil, pero a la vez bonachón, sin el ánimo de molestar gratuitamente a base de chistes vejatorios. De no ser por la existencia de algunos de ellos, que mellan en exceso el resultado global, hasta casi podría hablarse de reencuentro con la comedia de principios de los 90 que tantas y tantas veces hemos visto.
Y lo bueno del caso es que encima ataca con tino a los superhéroes cinematográficos de hoy en día, apuntando a sus puntos débiles con mucha puntería, como si realmente alguien se hubiera sentado a ver algo más que el trailer de las películas contra las que va a arremeter (y prueba de ello está en las iniciales de los nombres de los protagonistas...).
Evidentemente, todo el que ya de antemano muestre su desprecio hacia la propuesta, que pase de largo. Pero si eres de los que son capaces de dejar de lado prejuicios (y neuronas), no lo lamentarás. Y si no qué demonios, ver a Pamela Anderson de Sue Storm tampoco está mal, ¿no?
5/10