Considerado como uno de los directores más trascendentes del cine actual, el genio de la animación Hayao Miyazaki ha creado siempre cierta confrontación a la hora de compararlo con Walt Disney, a quien muchos colocan ya por debajo del japonés.
Por ello tal vez no resulte del todo extraño que con su nueva genialidad, "Gake no ue no Ponyo", el cineasta haya optado por adaptar libremente "La Sirenita".
Con guión del propio Miyazaki, el film se centra en Sasuke, un muchacho de 5 años, y su relación con Ponyo, una princesa pez que ansía convertirse en un ser humano...
Gratísima sorpresa nos tenía guardado el festival de Sitges '08 en su sesión Sorpresa (valga la redundancia). Con "Ponyo on the Cliff by the Sea", Miyazaki consigue mantener una vez más el altísimo listón de calidad al que parece afiliado desde tiempos inmemoriales, el mismo que le valió un Oscar hace casi seis años por "El Viaje de Chihiro", y fiel a sus costumbres, es decir, rehuyendo de las nuevas técnicas de animación, el dibujante logra una exquisita pieza de orfebrería milimétricamente estudiada para resultar un deslumbrante espectáculo para los sentidos y las emociones.
Durante poco menos de dos horas, el espectador se sumerge en una historia que navega entre la épica, la fantasía y la cotidianidad más íntima, protagonizada por personajes vivaces y entrañables, con los que enseguida simpatiza y se emociona de tal manera como para resultar cada uno de ellos totalmente inolvidable, desde los dos niños protagonistas a la madre del primero, tan aparentemente concienzuda como soñadora, el supuesto antagonista, rey de los mares, o el encantador grupo de ancianas ansiando una nueva aventura.
El éxito de la fórmula reside justamente en esa constante alternancia entre momentos grandilocuentes y otros sumamente pequeños, entre los que como si de un juego por turnos se tratara van evolucionando argumento y personalidades cogidos de la mano. Ejercicio que, dicho sea de paso, evita que el ritmo decaiga y mantiene el interés a elevadas cotas en todo momento, sin perder de vista el verdadero jugo de la película, que no es otro que la relación que se establece entre el ninfante humano y la niña sobrenatural. Huelga decir que, por muy sorprendente que parezca a priori, no resulta en absoluto descabellado comparar el que nos ocupa con otro de los films que pudo verse en el festival, "
Déjame Entrar
", en el que prácticamente la única diferencia radica en los orígenes de la protagonista.
Como en la sueca, en "Ponyo" asistimos a una oda a la amistad, y al amor verdadero, el sincero e inocente que sólo las tempranas edades pueden ocasionar. Y de la misma manera, ambos directores optan por colocar a sus infantes personajes en unas circunstancias desproporcionadamente grandes para su comprensión (y tamaño), con las que deberán lidiar desde su posición para hacer que su relación sobreviva.
Sin embargo, la fórmula no es todo lo perfecta que podía ser (si es que se le quieren buscar tres pies al gato), pues por muy medida que resulte esa mezcla de tamaños entre pasajes pequeños y otros de una inmensidad imponente, es precisamente en estos últimos en los que Miyazaki parece mostrar su punto flaco.
Y es que en más de una ocasión, los acontecimientos toman unos devenires tan desmesurados que parece que se le hayan ido de las manos a su propio autor, como batido por su misma obra. A la hora de la verdad, ello se plasma en puntuales escenas y/o explicaciones algo confusas que quieren darle al film un plus de majestuosidad a todas luces innecesario.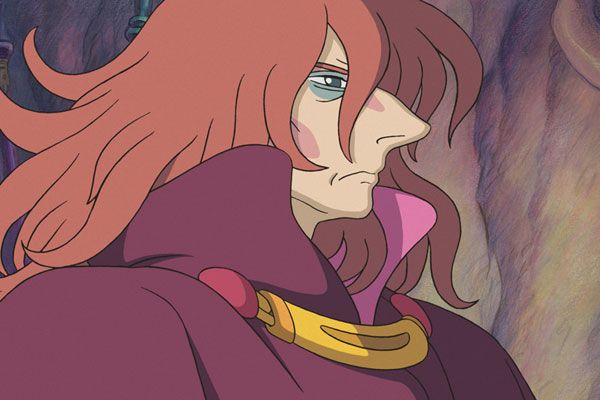 Pero como no hay mal que por bien no venga, habitualmente todas esas escenas equivalen a un derroche visual inusitadamente asombroso, en que el lienzo adopta una vitalidad feroz y colorista literalmente arrebatadora, sensación que, por otra parte, se mantiene en todos y cada uno de los fotogramas, auténticas obras de arte.
Es todo tan perfecto, animoso y simpático, que hasta el obligado tema-karaoke de los títulos finales se clava en la memoria como si de la canción de nuestras vidas se tratara.
Por consiguiente, tanto si se es amante del dibujo animado (ya sea anime u occidental) como si no, "Ponyo on the Cliff by the Sea" se convierte en una visita obligada al cine más cercano. No sólo demuestra que si bien hecha, la animación clásica puede sorprender tanto o más que las nuevas tecnologías, sino que además supone una historia preciosa y emotiva, de aquellas que siempre vienen bien para ensanchar y reconfortar el alma.
Tan espectacular como entrañable. Miyazaki en estado puro.
8,5/10