¿Qué es mejor que una película con un tiburón gigante? Lógico, una película con un tiburón gigante y un pulpo gigante. Con tan inapelable raciocinio la productora The Asylum presenta un título que no engaña: "Mega Shark vs. Giant Octopus". Y su argumento aún menos: una serie de pruebas en el Ártico descongela a estas dos criaturas
prehistóricas que comienzan a sembrar el terror en los mares, y un grupo de científicos/defensores de la naturaleza deberán buscar la manera de impedirlo. Añádase a semejante combinación la presencia estelar de Lorenzo Lamas -Rey de las Camas, y ya tenemos la Película de la Década (así, en mayúsculas).
Antes que nada, pongámonos en situación. Por si alguien no la conoce, la factoría Asylum goza de cierta popularidad por tres motivos: el plagio descarado de superproducciones exitosas (ahí están los "Transmorphers", "I am Omega", "Alien versus Hunter" o la más reciente "The Terminators"), la nada maquillada escasez de presupuesto... y un nivel terriblemente bajo de todas y cada una de sus producciones.
Da igual que uno se jure por toda su DVDteca que mantendrá las expectativas al mínimo, que se repita una y otra vez que va a ver una
superproducción directa a vídeo
(por así llamarla); tampoco importa que, para el espectador, no se trate de la película iniciadora en el mundo Asylum. El caso es que por mucho que se quiera comparar con la de Roger Corman, toda la filmografía de la productora acaba decepcionando por un motivo u otro, y es que donde uno buscaba (y encontraba) un mínimo de arte, personalidad o como quiera llamarse, The Asylum no busca nada más que el recrearse en su propia m...ediocridad.
Y "Mega Shark vs. Giant Octopus" desde luego no es la excepción.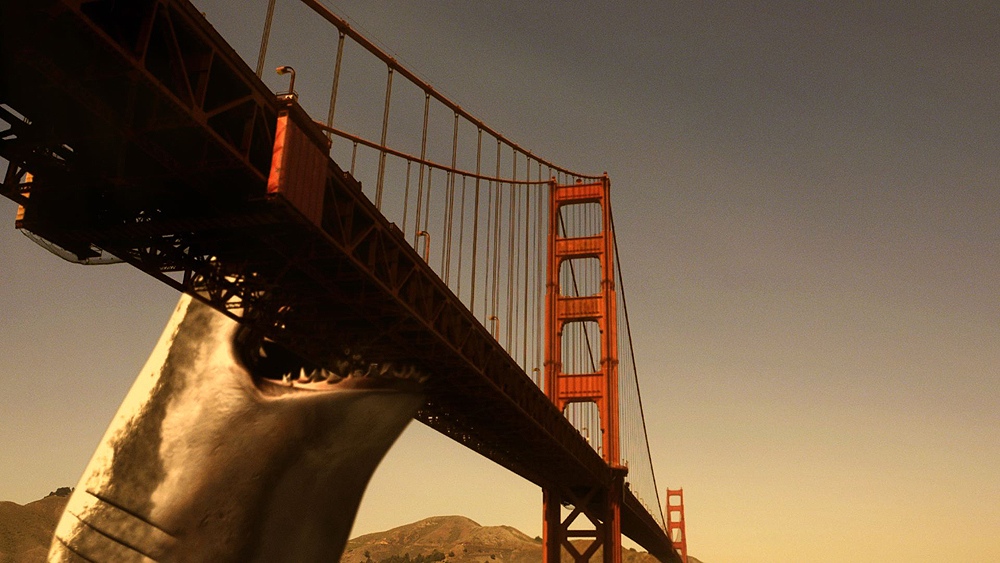 Ciertamente, la cosa no puede empezar mejor. En apenas unos minutos ya se han descongelado los monstruos que dan título al film, y no tardan en empezar a hacer sus fechorías (cualquier parecido con "
Monstruoso
" es... esto... en fin), que incluyen, ojo, el ataque por parte del tiburón ¡a un avión en pleno vuelo!
Así las cosas, el espectador es pillado por sorpresa, los minutos vuelvan y él está disfrutando como un bebé entre ataques demenciales y diálogos inolvidables (ejem) hasta que opta por mirar el reloj, y descubre que en realidad sólo han pasado 15 minutos.
Bueno, no hay motivo de alarma, seguro que aún quedan muchas sorpresas y todavía tiene que aparecer Lamas, a quien fijo que le reservan un papel memorable. Por otra parte, la película dura una hora y cuarto y así es imposible aburrirse.
¡Ay, cuán desencaminados van los que piensen así!
Por mucha esperanza que hubiera deparado la apertura del film, a la que el acelerado Jack Perez (escritor y director, ahí es nada) da rienda suelta al desarrollo argumental lo convierte en un peñazo de aquí te espero.
De poco sirve el desconcertante y desternillante personaje de Lorenzo Lamas, la absurda relación entre los dos científicos protagonistas (Deborah Gibson y Vic Chao, que salió en "24"), o la rematadamente estúpida búsqueda de soluciones al problema de qué hacer con los bichos.
Al que se atreva con ella le esperan 45 minutos de sopor aliviado únicamente mediante uno o dos ataques fugaces de las bestias y los siempre risibles efectos especiales. Respecto a ellos, atención a los disparos de los barcos de guerra, introduciendo en imágenes de archivo flashes sobrepuestos a la altura de los cañones.
Afortunadamente aún quedan unos quince minutos en los que "Mega Shark vs. Giant Octopus" medio da lo que promete, y aunque sea a base de repetir secuencias de CGI o focalizándola en la persecución a los humanos, la esperada pelea entre bestias se hace con el protagonismo absoluto y definitivo en una guerra sin cuartel disparatada ¡pero absolutamente ovacionable! Bromas a parte, sí cabe reconocer que durante la larga caza de tiburón y pulpo a los submarinos en los que se encuentran los personajes humanos (si es que consideramos al desencajado actor de "Falcon Crest" como tal) mantiene una inusitada tensión y supone la secuencia más entretenida de todo el metraje.
En resumidas cuentas, y por mucho que me pese, "Mega Shark vs. Giant Octopus" no puede ser recomendada bajo ningún concepto a nadie que no sea enemigo mortal declarado. Si aun así sois lo bastante hombres (¡o mujeres!) para atreveros con ella, se aconseja encarecidamente el visionado de toda la parte central a doble velocidad. Quién sabe, a lo mejor así mejora, que como le decía Homer Simpson a Mel Gibson, "siempre es más divertido cuando va deprisa". Sólo falta un perro malvado.
2/10
Por supuesto, os dejo con el trailer: